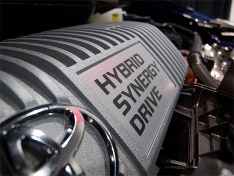 First, I think we need to explore the three main types of hybrid power trains.
The first type is called a series hybrid; in this type the internal combustion (IC) engine drives a generator to either supply electrical power to an electric motor or to recharge the batteries that supply electrical power to the drive motors. The best example of this type is a diesel locomotive we see pulling trains.
The next type is a parallel hybrid; in the parallel system, most of the driving power for the vehicle comes from an IC engine which is assisted by an electric motor. Through the use of electronic control units (ECU's) the motor can either supply driving force to assist in powering the vehicle, generate electricity to recharge the drive batteries, or under braking, recover the energy used to propel the vehicle and recharge the drive batteries.
The third type used in Toyota vehicles, with front wheel drive, rear wheel drive or all wheel drive is known as a series-parallel system. In this type the vehicle can operate as an electric drive vehicle at low speeds, usually below 30 to 40 mph depending on driving conditions and vehicle type, only starting the IC engine to recharge the high voltage battery. This is why the city fuel mileage is higher than the highway mileage. As the vehicle gains speed the hybrid control unit decides the amount of IC engine power and electrical motor power that is needed according to driver input. By the time you are on the interstate running at highway speeds the vehicle is for the most part a normal IC engine powered vehicle. So bottom line is sometimes your Toyota Hybrid is electric, sometimes gas and sometimes both.
All Toyota Hybrid vehicle power trains use regenerative braking to recover power and help charge the high voltage battery. They also have a 12 volt electrical system used to power all the different computers or ECU's in the vehicle as well as the lighting system, power steering and audio systems.
Well, I think that is about enough for now. I do need to save something for the future!
About the author:
Terry has been a Toyota Master since 1984 and a Master Diagnostic Technician since 1991. In 1992, Terry finished second in Toyota National Skills Competition, and is a member of the Toyota Service Champions Society. He also worked for SET in Technical Services as a Field Technical Specialist for nine years.