The first question that needs to be addressed is: with the advanced technology in a Toyota Hybrid, is the reliability as good as the other Toyotas in the model line? After all, Toyota has built a reputation of building a reliable vehicle.
I will answer this question by breaking down the vehicle by system:
Power train, engine and transaxle:

All the engines in Toyota hybrids are used in another Toyota model imported to or made in the USA. There are slight differences in the cam timing and electronic engine control system to meet the power delivery needs of a hybrid system. Most of the engines operate at a constant speed when the engine control system deeps it necessary to turn on the engine.

The transaxle is basically two electric motors coupled by a set of gears call planetary gears. There is no shifting of gears, and nothing to slip like clutches in common automatic transmissions. This transaxle design is found on all Toyota hybrid vehicles and is sized according to the power output of the engine and weight of the vehicle.

All the power train systems have proven to be very reliable.



Electrical system:

With the exception of the high voltage battery and related components, the rest of the electrical system is a 12 volt system. This system supplies power for the electronic control units (computers), radio, heater blower and lightning systems. Both the HV and 12 volt systems have proven to be above average in reliability.



Chassis and brakes:

The chassis is just like any other vehicle Toyota builds; align the vehicle about once a year and drive.
I have been a Toyota technician since 1972, was one of the first Hybrid certified technicians in the nation and I have never seen a Prius that needed brakes. I am not saying Prius brakes do not wear out, but because of the regenerative braking system designed into the vehicles they last a long time.
I am not saying Toyota Hybrid vehicles do not break. The vast majority of Toyota hybrids I service day in and day out only need routine maintenance like oil and filter changes, tire rotations and filters. So you consider overall operating cost, and the ever expanding lineup of Toyota hybrid models there is no reason not to make your next vehicle a Toyota Hybrid.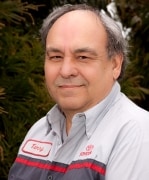 About the author:

Terry has been a Toyota Master since 1984 and a Master Diagnostic Technician since 1991. In 1992, Terry finished second in Toyota National Skills Competition, and is a member of the Toyota Service Champions Society. He also worked for SET in Technical Services as a Field Technical Specialist for nine years.